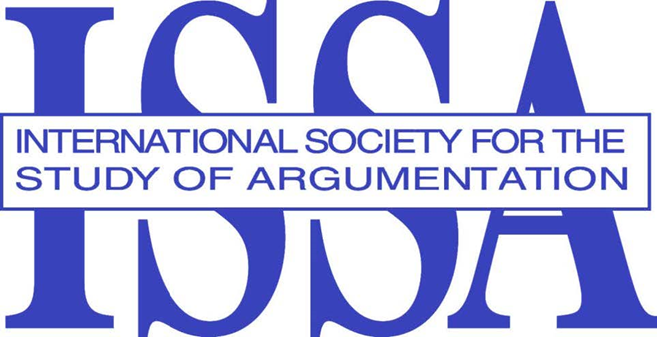 General info | Program | Practical information | Registration | Summer School | Venue | Hotels | Proceedings
~ Please find the updated online conference program for Friday here. Prints are available at the registration desk. ~
10th Conference of the International Society for the Study of Argumentation (ISSA 2023)
From 4-7 July 2023, the 10th Conference of the International Society for the Study of Argumentation (ISSA) will be held at Leiden University (the Netherlands).
The aim of the ISSA conference is, as always, to draw together scholars from a variety of disciplines that are working in the field of argumentation theory.
The Organizing Committee consists of Ronny Boogaart, Henrike Jansen, Maarten van Leeuwen, Roosmaryn Pilgram, and Alex Reuneker.
The Planning Committee consists of Frans van Eemeren, Bart Garssen, Ton van Haaften, and Henrike Jansen.
The keynote speakers are:
Contact information: issa23@hum.leidenuniv.nl
Conference program
4 July: registration and drinks 15:30-18:00 at the Hortus Botanicus (oldest botanic garden in The Netherlands); you are welcome to visit the Hortus Botanicus (for free) from 10:00
5 July: conference 9:00-17:00; drinks 17:30-19:00
6 July: conference 9:00-17:00; boat trip 17:30-18:30
7 July: conference 9:00-17:00; drinks and dinner 17:30-22:00
The program is updated on Sunday 25 June:
Original Program of Presentations
Updated Program of Presentations for Friday (prints available at registration desk)
Practical information
With an eye on the environment, we ask everyone to bring their own water bottle. Bottles can easily be filled at many locations in the venue.
Registration, payment, fees
The deadline for early bird registration (including payment) is 1 April. You can register here: https://www.formdesk.com/universiteitleiden/issa23-registration.
After receiving your registration, we will send you a payment link. Please note that the conference registration will only be considered complete after we have received your payment.
We have managed to keep the fees on the same level as in 2018. Fees for early bird registration and payment (before 1 April) are:
regular €375
(PhD) students €200
If you miss the early bird deadline, you can still register and pay, but only until 1 June, and with higher fees:
regular €475
(PhD) students €300.
ISSA-Leiden Summer School
The ISSA-Leiden summer school for PhD students and advanced master students will take place on Monday 3 July (9:00-17:00 hrs) and Tuesday 4 July (9:00-13:00 hrs).
The theme of the summer school is 'Argumentation and Language'. The preliminary program can be found below.
ISSA 2023 Summer School Preliminary program and abstracts
The summer school is free of charge. We take care of coffee and tea during the day, but lunch and dinner are at your own expense.
You can register by sending an e-mail to Ms. Charlotte van der Voort before 8 May: c.van.der.voort@hum.leidenuniv.nl.
Venue
The conference will be held in the 'Lipsius' building of the Faculty of Humanities of Leiden University: https://www.universiteitleiden.nl/en/locations/lipsius.
Please note that registration and drinks on tuesday July 4 is not at the Lipsius building, but at The Hortus Botanicus, which is nearby. See also the section 'Practical Information' in the Conference Program Book.
From Schiphol Airport it is very easy to travel to Leiden Central Station by train: it takes 16-21 minutes, depending on the type of train, and a 2nd class ticket costs €7. From Leiden Central Station it takes 10-15 minutes to walk to the conference's venue.
Hotels
We have asked hotels in Leiden to keep rooms available for the conference. You can book them as described. Please see the codes in your acceptance mail. Further note that this offer is available until 4 April 2023!
You can also book a hotel room in The Hague (Den Haag): it only takes 10-15 minutes by train to go The Hague Central station or The Hague Hollands Spoor, and it costs €4-4,50; trains run every 10-15 minutes. Hotels in Amsterdam are also an option: it is 35 minutes by train from Amsterdam Central station and costs €10,60; you can also travel from Amsterdam-Zuid, which takes 25 minutes and costs €9.
We advise you to not wait too long to book a hotel.
Proceedings
Papers for the proceedings can be submitted between 8 July and 1 October 2023. In order to do so, please upload your paper at https://formdesk.com/universiteitleiden/issa23-proceedings-sep.
Papers must be written in accordance with the author's instructions, using the template file and uploaded as a Word file (no other formats, such as .odt or .pdf, are allowed). Papers should not exceed 5000 words (references not included). All authors should ensure that their paper is in agreement with generally accepted standards for academic papers in English. Papers that are not formatted according to the instructions below will not be accepted.
Download/view author's instructions
Contact information: issa23@hum.leidenuniv.nl